American Institute of Homeopathy Launches Comprehensive Database of COVID-19 Cases
The American Institute of Homeopathy (AIH) has launched an ambitious effort to collect COVID-19 cases (homeopathic) from around the world. This project is part of a larger collaborative effort with homeopathic colleagues around the world. We will be issuing reports on findings from the data at least weekly for the forseeable future. The database can only be accessed by practitioners with the security clearance to do so. Practitioners interested in learning more may email media@homeopathyusa.com.
---
Case Management of the Influenza and Pneumonia Patient with Homeopathy During the COVID-19 Pandemic
André Saine, N.D.
American Institute of Homeopathy Webinar
Saturday April 4, 2020
Presentation Notes can be viewed here
---
The Homeopathic Treatment of the
Patient with COVID-19
The American Institute of Homeopathy (AIH) hosted a two-hour international web conference on the homeopathic treatment of patients with COVID-19 on March 18th. It is available here – and is free to view.
Our work at the American Institute of Homeopathy has never been more important. Please consider donating to AIH so that we can continue to advance these vital projects.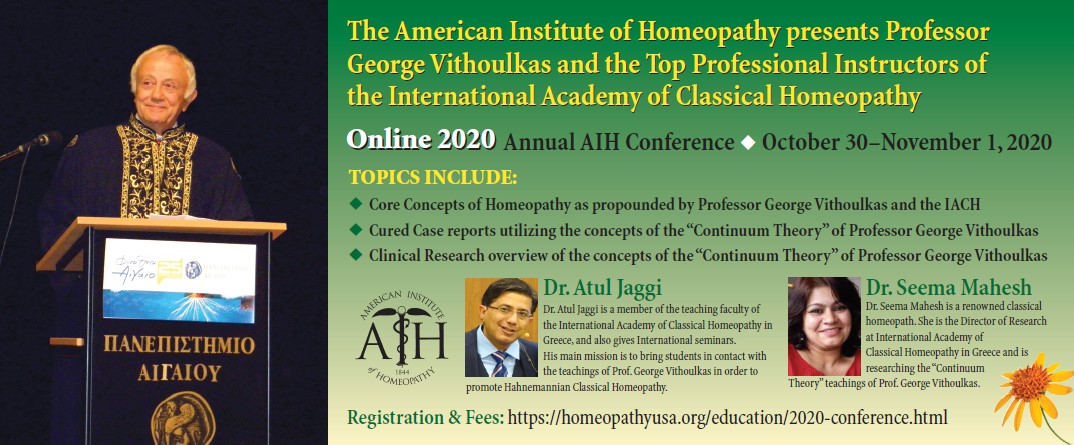 Access to Homeopathy Threatened
by Latest FDA Action

The U.S. Food and Drug Administration (FDA) has recently proposed a new guidance regarding Homeopathic medicines that could have severe consequences on the survival of Homeopathy in the U.S.
The consequential action taken by the FDA involves the elimination of the administrative framework for homeopathy that the agency used for 30 years, one that allowed manufacturers of homeopathic remedies to thrive while ensuring the quality and purity of homeopathic medicines. We are referring to the withdrawal of Compliance Policy Guide (CPG) 400.400 which has served the industry and consumers well.
Leading U.S. Researchers Present the Latest Research on Homeopathy to students from the American Medical Students Association (AMSA)
On October 23, 2019, Dr. Iris Bell MD, PhD and Dr. Jennifer Jacobs MD presented the latest in homeopathic research to AMSA Integrative Medicine Scholars. The presentation is exceptionally good, was very well received. Viewing time: 2 hours.
The State of Research in Homeopathic Medicine and Understanding the Biological Basis for Homeopathic
Latest Issue of the AJHM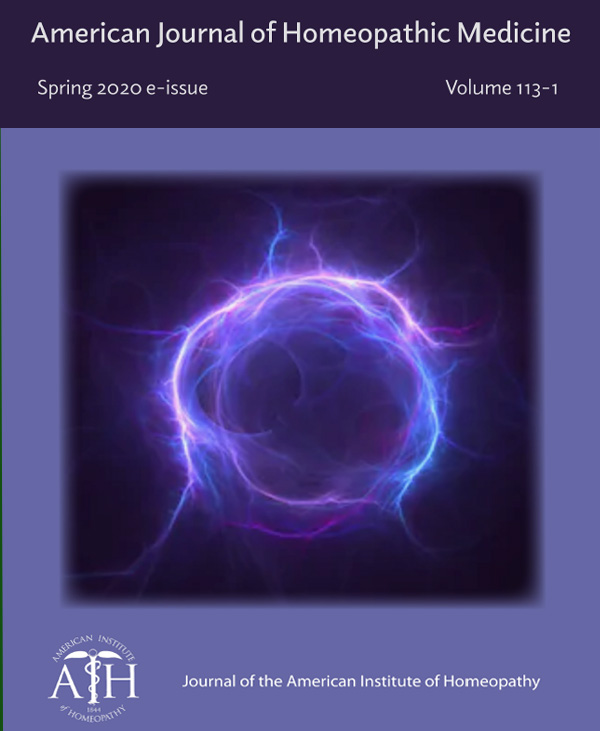 Spring - 2020 e-issue
Volume 113 Number 1
Table of Contents
Already a member? Sign in for instant access!
An Open Letter From Concerned Physicians
Regarding Antibiotic Resistance

America and the world face a crisis.

It is now estimated that antibiotic resistant infections may kill an estimated 10 million people a year and cost the world's economies some $100 trillion annually by the year 2050. Dr. Margaret Chan of the World Health Organization has recently stated that Earth may be approaching a time "when things as common as strep throat or a child's scratched knee could once again kill."
Solutions to this looming crisis must be found and found quickly. As some of America's leading integrative medicine specialists, we believe it is time to look anew at a modality called homeopathic medicine.

Who We Are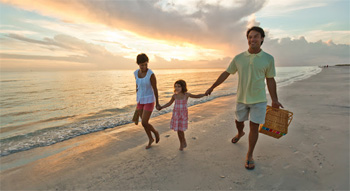 The American Institute of Homeopathy, the oldest extant national physicians' organization in the US, has promoted homeopathic medicine as a medical specialty since 1844. Our members are licensed physicians (medical, osteopathic, and naturopathic), dentists, veterinarians, nurse practitioners, physician assistants, pharmacologists and pharmacists and all of us are trained in homeopathic medicine as well as the medical/dental training required for our respective license. As licensed homeopaths, we are aware of the benefits and limits of both conventional and homeopathic medicine. When possible, we choose to promote the healing of our patients with homeopathic medicines because they are gentle yet highly efficacious. Whether you are a patient, a homeopathic colleague, a conventional (allopathic) healthcare provider, or simply a curious person, we welcome you to explore our website. If you have any questions, please contact us at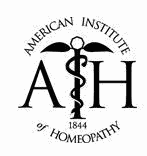 To your health and well-being,
Ronald W. Dushkin, MD
President, American Institute of Homeopathy
To our Patients
Experience the best of both worlds.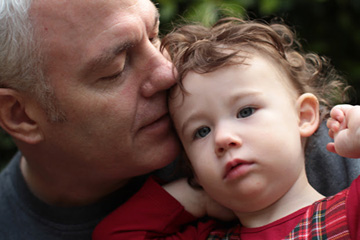 Many of our patients have been unable to find the help that they need through conventional medical care. Others simply want to be treated with safer natural medicines. What we hear most often is that patients want a natural approach to their healthcare, but they also want to benefit from all that conventional medicine has to offer. Our members have unique expertise because we are knowledgeable about modern medical science and diagnosis as well as homeopathic medicine. To learn more about homeopathic medicine and how we can help you, read Homeopathic Medicine or read some Books written by our members. And by all means find a homeopathic practitioner near you.
To our Homeopathic Colleagues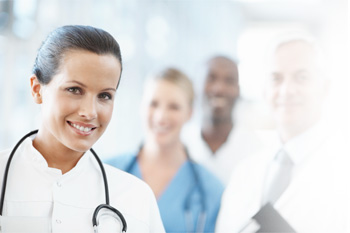 You're on a bridge between two worlds -- share your journey with a community of like-minded homeopaths.
If you are a licensed physician (medical, osteopathic, or naturopathic), dentist, nurse practitioner or physician assistant, AIH membership has many benefits to offer you. Our online forum, in which we discuss homeopathic clinical concerns, research, ideas for future seminars, etc., provides a wonderful opportunity to stay abreast of important homeopathic matters and to build collegial relationships. Our recent seminar on Predictive Homeopathy was a great success (read Dr. Dick Moskowitz's review), and we have responded to our members' requests for more training by setting up a year-long training program in Predictive Homeopathy (futher details coming soon). You can also read and contribute to our American Journal of Homeopathic Medicine. See About AIH for further information about our association, and Membership for further information about the benefits of membership.
To our Allopathic Colleagues
Explore the paradox of a world of cutting-edge science supporting a 200-year-old system of medicine.
What we often hear from our allopathic colleagues is that homeopathic medicines cannot work because the medicines are too dilute and that there is no research to support homeopathy. We invite you to read the AIH Guide to Homeopathic Research for an introduction to contemporary research in support of homeopathic medicine. For a general overview of homeopathic philosophy, read Homeopathic Medicine. For a more detailed account of why a trained, licensed physician might choose to practice homeopathic medicine, read For homeopathy: A practicing physician's perspective.
Contact us for further information.
Compelling Truths...
Homeopathy is a system of medicine used by over 500 million people and tens of thousands of physicians worldwide.
Health care in France is rated by the World Health Organization as the very best in the world. It is interesting to note that 95% of all French general practitioners, dermatologists, and pediatricians and 75% of all midwives use homeopathy for their patients.
In 2011, the Swiss government, with the help of a panel of European scientists, conducted an official and comprehensive study of homeopathy. The conclusions of that study: "That… especially homeopathy (is) effective, under Swiss conditions safe, and as far as could be judged from the trial situation, also cost efficient."

On Tuesday, March 29, 2016 - the Swiss government officially took the additional important step of recognizing homeopathy as having equal standing with ordinary, conventional medicine.
Research scientists in twelve separate laboratories in the U.S., Russia, France, Italy and India have confirmed that homeopathy may well be the first form of nanomedicine (albeit natural) ever discovered.
In addition to 200 years of positive clinical outcomes and the extensive positive evidence for homeopathy found in reliable public health records, there are literally hundreds of basic science, pre-clinical and clinical studies (including very large observational studies) that show homeopathy to be an effective therapeutic intervention. See the research bibliography for more information.
---