2019 Conference - "Mapping the Cancer Journey"

2019 Conference
Dr. Farokh Master
"Mapping the Cancer Journey"
Friday-Sunday, October 11-13, 2019
The AIH conference has received generous support from the
Foundation for Homeopathic Education
NOTE: Attendance limited to Licensed Professionals with the following degrees: MD, DO, ND, PA, NP, DC, RN, LPN, DDS, DVM, LAc. 
The AIH seminar will cover many important topics in cancer care including:
Materia Medica of Homeopathic Cancer Remedies
Big, Small, and Unique Homeopathic Remedies for Cancer
Allopathic Chemotherapeutic Agents as Homeopathic Cancer Remedies
Potentized Hormones as Homeopathic Cancer Remedies
New Herbal Medicines as Homeopathic Cancer Remedies
Homeopathic Protocols for Treatment of Cancer Patients
Failure and Success in Cancer: How to Improve Our Skills in Treating Cancer
Introduction of New Rubrics Created in the Repertory Related to Cancer
Homeopathic Philosophy of Cancer Treatment
Miasms in Cancer Care
Dietary Therapy in Cancer Care
Palliative Therapy in Cancer Care
Posology in Cancer Patients
Correct use of Low Potencies, LM Potencies, and CH Potencies
Explanation of the Hahnemannian 5-Cup Method
How Often to Repeat Doses
Please join us in this unique experience by registering today.
The 2019 AIH Conference is being held at the Doubletree
by Hilton Hotel in Charlottesville, Virginia
Use code "AIH" for the special guest room discount.
PRE-ORDER DR. MASTER'S NEW CANCER THERAPY BOOK
Dr. Farokh Master's new, encyclopedic, two-volume book "Healing Cancer: A Homeopathic Approach" will be available for sale for the first time in North America at the 2019 AIH Conference.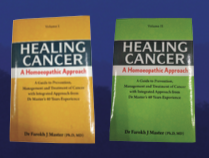 Pre-order your copy in advance at the special discounted conference price of $95.00 (includes tax) by submitting a request to info@alternativedrmcare.com. All pre-orders must be received by August 31st, 2019. The book price during the AIH conference will be $115.00 plus tax.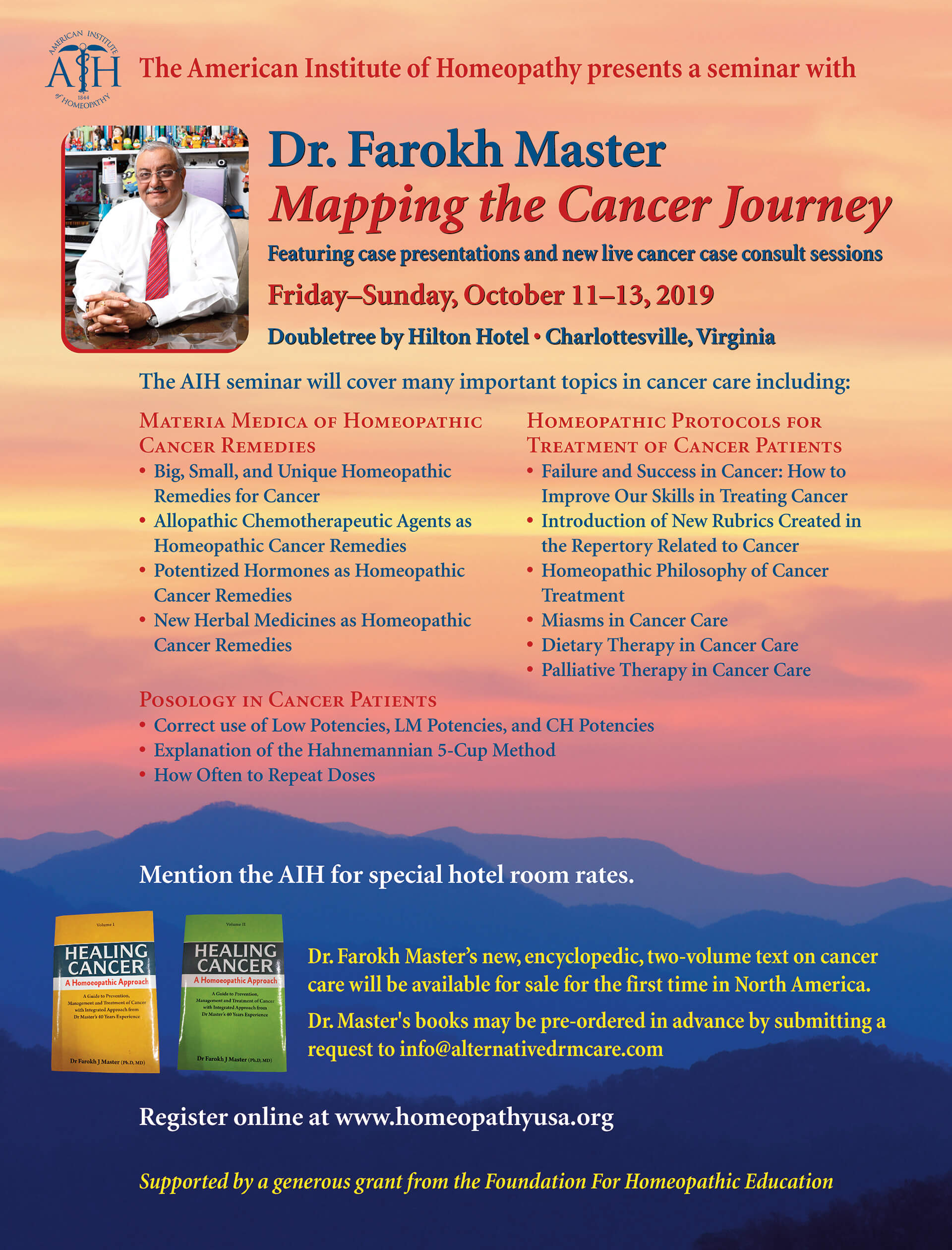 You can call 888-445-9988 or contact AIH if you have questions
about this course or its availability.
---